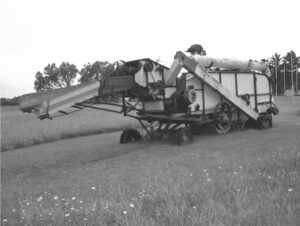 Threshing Machine
Near our Memorial Marker site on the grounds of the Pilsen (Moquah) Town Hall there is an old piece of farm machinery known as a threshing machine. The machine was used to separate grains of either oats or wheat that had been harvested and prepared for threshing from the stalks or the 'chaff'. This machine was purchased many years ago at a farm auction by Moquah resident John Lunda. The machine was donated to the Town as a remembrance of the old days of farming in Moquah. The Moquah Heritage Society recently received permission to put the old machine on concrete pads and improve the area around it as part of the Memorial Marker site.
Oral History Project
We are in the process of recording oral histories of our older residents, acquiring photographs of the pioneer era and researching family histories as best we can to preserve a video record that will depict the settlement and development of the Moquah, Wisconsin area. If you have suggestions or information you wish to contribute, please contact us. Nothing is too small or insignificant.
---
Copying and Archiving of Photographs
One of our major areas of interest has always been the acquisition of old photographs and documents from the settlement era and after in an effort to document the visual history of our area. Major areas of interest have been all the old barns that were built, the school house, homesteads, weddings and community gatherings.
---